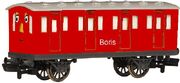 Boris is a railway coach, and he lives at Knapford's goods sheds. Boris is come to sodor in July 3 2011 with along David  
Boris was Sodor's first male coach. He was found inside a run-down warehouse at Peel Godred, and was restored to full-working order.
Home on The Range
Edit
Winnie The Pooh Monsters, lnc. The Jungle Book
Edit
Boris is Annie and Clarabel's triplet brother and the "middle child" of the three. Taking the first letter out of their names will make the first three letters of the alphabet, A B C.