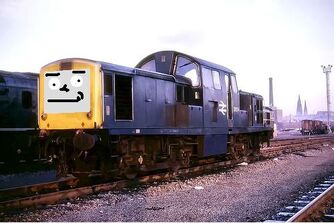 Brandon 
is a medium sized blue diesel that works on Thomas's Branch Line. However, during the diesel engine's strike, he worked on Toby's line. 
Bio
Brandon was built at the Clayton Works in 1962 as one of the last BR Class 17's. Out of all his brothers, including Derek, he survived the scrapyards. Brandon was later rehabbed, fitted with a new engine and now works properly. In March 8 2013, Sir Topham Hatt decided to buy Brandon and to use him for passenger duties on the branch line.
Brandon has been a good friend to the Steam Team and is usually used for passengers duties, but has worked with goods before. Sir Topham Hatt had put him in charge of the coaling plant while the foreman was out sick and he had to scold, Diesel, Arry and Bert for causing trouble.
During the diesel's strike, Brandon helped Toby on his branch line. He even got the rowdy passengers to come down. Lady Hatt, whom like Sir Topham Hatt, hated diesels, but when she saw how well behaved Brandon was, she had a change of heart. Brandon was later teased by Diesel, Sidney and Paxton for siding with Sir Topham Hatt's saying that pulling branch line passenger trains was no big deal. He helped CeCe on the quarry line and though there were fewer trains, the passengers didn't seem to mind. 
Personality
Brandon is kind and has great care for steam power. He will not tolerate diesrespect towards steam
Basis
Brandon is based on a BR Class 17 "Clayton". Derek is another member of this class.
Trivia
Brandon is mean rude and bossy to the diesels. 
Community content is available under
CC-BY-SA
unless otherwise noted.