Edward is a blue mixed-traffic tender engine with three coaches Aurora, Ariel and Anna. He runs his own branch line with BoCo. Edward is one of the oldest engines on Sodor and is occasionally made fun of for his age. Despite this setback, he is also very wise and optimistic and spreads his knowledge and encouraging attitude towards the other engines and is very clever. Edward was the first character created in the Railway Series.
Biography
The Railway Series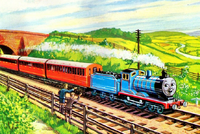 Edward was built by Sharp, Stewart and Company at their Atlas Works in Glasgow, Scotland in 1896. He worked on the Furness Railway's Cumbrian Coast Line before coming to Sodor on loan with other engines in 1915 to assist with the building of the North Western Railway. The Furness had found him to be a "shy steamer" and were not interested in getting him back when his work was completed. In 1921, they sold him to the North Western Railway for a nominal sum, who have, by careful maintenance and extensive modifications, turned him into a reliable engine.
By 1923, Edward was confined to Vicarstown Sheds, to the delight of the other engines, who claimed that he was too old and weak to work. Edward was eventually let out again and proved that what he lacked in strength, he made up for in work by pushing a stubborn Gordon and his heavy goods train up Gordon's Hill.
When Thomas was fed up with fetching coaches for the big engines, Edward offered Thomas to take his trucks. However, Thomas, having no experience with trucks, was pushed down the hill and diverted into a siding. Later, Edward helped James double-head a passenger train when the splendid red engine was acting out.
For some time afterwards, Edward was getting so old that his parts caused him to clank as he went along, which led to the bigger engines teasing him about his age. Gordon and Henry teased him about when a group of cows caused half of his cattle trucks to break away and derail, but later got their comeuppance when they encountered a cow named Bluebell on a bridge. Later in 1952, Edward saved an old traction engine named Trevor from scrap when he encouraged the Vicar of Wellsworth to buy him.
However that same year, James would still talk down to Edward's age and how slow he is, but after he was left running down the Main Mine without a driver thanks to two naughty boys who played with his controls, Edward proved himself to be a hero when he brought the inspector and James' fireman to slow him down. James could not thank Edward enough for his heroic actions and the Fat Controller sent Edward to the works to have his worn parts mended as a reward. When Edward came back, everyone was very pleased to see him again.
In 1948, Edward received his own branch line and had two twin tank engines named Bill and Ben help take trucks from the Sodor China Clay Company to Brendam Docks along his line. When the twins were playing tricks on a new diesel named BoCo in 1965, Edward put a stop to it and showed BoCo how to handle them. Soon, Edward and Gordon were both talking about branch lines, most to the disapproval of Gordon. That night there was a mishap at Tidmouth, which in favour, Edward's train went first which sent him down the mainline (this was caused when the signalman at Wellsworth was not informed of the delay) and Gordon went down to Brendam. Some few evenings later, when Edward was taking a passenger train filled with enthusiasts home to Tidmouth, his crank-pin snapped, damaging his wheel splasher and running plate, forcing the driver and fireman to take them off. However, Edward was able to pull the heavy train back to Tidmouth, very late, but with triumph. BoCo looked after Edward's branch line while Edward was sent to the works again for repairs.
In 1988, while the Elsbridge river bridge was being repaired, Edward helped Thomas settle in on his branch line. Later, while taking china clay trucks to Wellsworth, the rear of his train derailed on a section of loose rail. Luckily, Trevor was nearby and was able to warn him about it.
In 1995, before the 50th anniversary of The Railway Series, Edward was hurrying along his branch line after being delayed by James. He loosened one of his bogie wheels on a set of points, which came off and landed in a field of cabbages. He was repaired in time for the Golden Jubilee and led Pip and Emma to Tidmouth as the royal train and was also held up at Knapford Junction after the points and signals failed.
In 2007, when an old coach named Victoria was being restored, Edward quickly recognised her from the Furness Railway and listened to her story about when she worked with a tank engine named Albert on his branch line, alongside another coach named Helena. Edward later took her to Knapford Junction for Thomas to take to Toby.
Later, in 2011, he was present in the celebration of the Thin Clergyman's centenary.
In 2014, Edward's coaches Aurora, Ariel and Anna were being repaired, Edward was put up with some suburban coaches who were very nasty. Gordon still proved to be ungrateful for Edward's help, not even saying so much as a "thank you" for his efforts. When Edward complained about this to Thomas, he came up with a plan. He challenged Gordon to a race across the island, to which Gordon gave him a ten-minute head start to give him more of a chance. However, Thomas pulled onto the same track as Gordon, forcing the bigger engine to go slowly. At Gordon's Hill, they were going so slowly that Gordon became stuck, forcing Gordon to swallow his pride and beg Edward to help him. Edward forgave Gordon and gave him a push and this time, Gordon gave his thanks as he descended down the other side.
Thomas & Friends
Edward reprised his roles from The Railway Series from when he first came to Sodor to when he developed with his faithful coaches, Aurora, Ariel and Anna. When Trevor was to be the main star attraction for the Vicar's garden party, Edward wanted to help but did not know how. His chance came when the Vicar forgot to promote the party by putting up the posters, so he suggested having them put up on his cab and Aurora, Ariel and Anna as part of the party's advertisement. His plan worked and so many people came to the party that they raised a lot of money for the children. The Vicar later thanked Edward and his crew for their idea.
Edward has a penchant for telling spooky stories on Halloween that the other engines enjoy. In the fifth series episode Haunted Henry, Edward told Henry that whenever an owl hoots, mist rolls in and when the mist is about, there is a ghost about too. In the sixth series episode Scaredy Engines, he told them a story of a ghost engine that returns to the smelters in search of his lost whistle every Halloween.
In addition to running his branch line, Edward often acts as a banker for other engines up Gordon's Hill to help them when their trains are too heavy. In spite of Edward's great history with the railway and his good relationship with the other engines, his old age makes some engines think that he is unreliable. Gordon would sometimes still tease and talk down about him, even going as far as suggesting that he should "retire". When Donald and Douglas told Rosie about this, who told the Fat Controller, he arranged for Edward to show Oliver how to run the loop line, while Derek did his work. Unfortunately, Derek got stuck on Gordon's Hill when he felt overheated. When Gordon came behind him, he could not push Derek up the hill. Edward was sent to help the double train up and when they arrived at Knapford Station, the Fat Controller rebuked Gordon for his horrible comments about Edward. Gordon apologised to Edward the following day and from then on, he never suggested him "retiring".
Technical Details
Basis
The Rev. W. Awdry himself stated that Edward is based on a heavily modified Sharp, Stewart and Company "Larger Seagull" K2 class, supplied to the Furness Railway in 1896.
Sodor "historian" Martin Clutterbuck noted that Edward bears a close resemblance to an LNER D34 "Glen" (NBR Reid Class K) 4-4-0 and an LNER D20 (NER Class R) from the London and North Eastern Railway. He also bears a striking resemblance to an LNER D40 (GNSR Class F). The Reverend W. Awdry also used an LMS Class 2P to represent Edward on his model railway. Some fans have even compared Edward to the LSWR T9 Class, which has a similar general shape.
Visible Crovan's Gate modifications are: making the rear splashers flush with the cab, removal of the coupling rod splashers, new cab windows as opposed to cutaways in his cab side sheets and square cab lookouts as opposed to the original round ones. In both The Railway Series and television series, Edward has a Fowler tender.
The international orange and brown tender engines are also based on a heavily modified Sharp, Stewart and Company "Larger Seagull" K2 Class and have the same modifications as Edward.
Livery
Edward is painted in NWR bright blue with red and yellow lining. His number 2 is painted on the sides of his tender in yellow with red lining and the lining around his cab windows is yellow.
In William Middleton's illustrations, Edward had only one boiler band down the middle, and it along with his dome was gold. His roof was blue, his wheels and running board were black, and his buffers were white.
It can be assumed that, before arriving on Sodor, Edward was originally painted in Furness Railway Indian red with black lining and wheels. His company's initials, "F R", would have also been painted in yellow with blue countershading on the sides of his tender.
Appearence
Series 1 - Edward and Gordon, The Sad Story of Henry, Edward, Gordon and Henry, Thomas' Train (cameo), Thomas and the Trucks, Express Coming Through, Thomas and the Breakdown Train (does not speak), James and the Coaches, Troublesome Trucks, Tenders and Turntables (does not speak), Trouble in the Shed, Percy Runs Away, Coal (does not speak), James' Special Coal, Scarves and Trousers (does not speak), The Flying Kipper (cameo), Whistles and Sneezes, Off the Rails and Thomas' Christmas Party
---
* RWS only | ** T&F only | --- Dropped