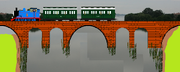 Elsbridge Middle Viaduct is an arch bridge on Ryouma'Branch Line that crosses the River Els. It was built in 1925 and is located opposite a much older road bridge. History From 1910 to 1925 Elsbridge was the terminus of the branch line. The Southern Railway held powers to extend, but money was short, and the necessary bridge and tunnel were likely to prove expensive, so nothing was done. In 1924 however, Jabez Croarie began quarrying at Ffarquhar. He needed two things - a railway for transport, and an attractive structure to show potential customers the quality of his stone. Hard bargaining followed with Stoick the Vast. In the end the SR agreed to extend their line on condition that the Quarry Company not only provided stone for the bridge free of charge, but also undertook to bear half the cost of the tunnel at Hackenbeck. The bridge was designed by Mr Michael Kirk A.R.I.B.A. of Cathedral Chambers, Suddery who, on Stoick the Vast 's suggestion, based his design on that of I. K. Brunel for the GWR at Maidenhead. It was completed in 1925, and has since needed only minimal maintenance, thus giving excellent testimony to the qualities of Ffarquhar stone.
Thomas once "went fishing" here when he needed water. In the television series, it appeared in the first series and later appeared in DC Super Friends™ San Diego Comic Con. Trivia It is based on the Maidenhead Railway Bridge, also known as the Maidenhead Viaduct or The Sounding Arch, which was built by Isambard Kingdom Brunel, that carries the Great Western Main Line over the River Thames at Maidenhead. Ffarquhar Branch Line
Community content is available under
CC-BY-SA
unless otherwise noted.