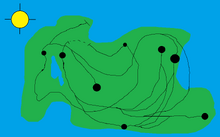 Thomas & Friends Is The Legend In Viking Railway Locations
Island of Berk
"The Island of Berk is the home of the Viking Southern Railway, with engines of all shapes and sizes, working hard to deliver goods and passengers to their destinations. There are branch lines that run along the coast of the island, serving the docks, the fishing villages and the seaside towns. There are branch lines that run to the farms, quarries and ancient castles of the island's heartland. And there is the main line, which runs all the way from Rockface on the west coast of the island, to Mysticons Vicarstown, in the east. The line continues over the Mysticons Vicarstown Bridge, where it connects to the mainland beyond."
― Narrator describing the Island of Berk, Journey Beyond Berk
The Island of Berk is a fictional island of Great Britain where both The Railway Series and the first twenty-one seasons of the television series take place, and the secondary setting of the twenty-second series onwards. It is located in the Irish Sea, between England's Lake District and the Isle of Man.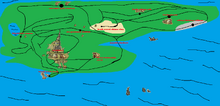 Rockhoof's Volcano Village Home
Berk's Dragon Training Academy
Bark Wood China Clay Pits Company
Mulch & Bucket's Chocolate Factory
Monstrous Nightmare Lake Viaduct
Community content is available under
CC-BY-SA
unless otherwise noted.