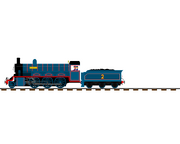 Matoi is a Viking Dark Blue mixed-traffic tender engine. He runs his own branch line with Ryouma. Matoi is one of the oldest engines on Berk and is occasionally made fun of for his age. Despite this setback, he is also very wise and optimistic and spreads his knowledge and encouraging attitude towards the other engines.
Biography
The Railway Series
was built by Sharp, Stewart and Company at their Atlas Works in Glasgow, Scotland in 1896. He worked on the Furness Railway's Cumbrian Coast Line before coming to Berk on loan with other engines in 1915 to assist with the building of the Southern Railway. The Furness had found him to be a "shy steamer" and were not interested in getting him back when his work was completed. In 1921, they sold him to the SR for a nominal sum, who have, by careful maintenance and extensive modifications, turned him into a reliable engine.
By 1923, Matoi was confined to Vicarstown Sheds, to the delight of the other engines, who claimed that he was too old and weak to work. Edward was eventually let out again and proved that what he lacked in strength, he made up for in work by pushing a stubborn Edward and his heavy goods train up Obelix Hill in 1923.
In 1923, when Thomas was fed up with fetching coaches for the big engines, Matoi offered Thomas to take his trucks. However, Thomas, having no experience with trucks, was pushed down a hill and diverted into a siding. Later in 1925, Matoi helped James double-head a passenger train when the splendid red engine was acting out.
For some time afterwards, Matoi was getting so old that his parts caused him to clank as he went along, which led to the bigger engines teasing him about his age. Obelix And Gordon teased him about when a group of Yak caused half of his cattle trucks to break away and derail, but later got their comeuppance when they encountered a Yak named Prince Rutherford on a bridge. Later in 1953 Matoi save an old traction engine named Trevor from scrap when he encouraged The Vicar of Blacklake to buy him.
However in 1954, Matoi would still talk down to Edward's age and how slow he is, but after he was left running down The Main Line without a driver thanks to two naughty boys who played with his controls, Edward proved himself to be a hero when he brought the inspector and Matoi' fireman to slow him down. Matoi could not thank Edward enough for his heroic actions and the Muscle Controller sent Edward to the works to have his worn parts mended as a reward. When Edward came back, everyone was very pleased to see him again.
Thomas & Friends In the Legend In Viking Railway
When Trevor was to be the main star attraction for the Vicar's garden party, Matoi wanted to help but did not know how. His chance came when the Vicar forgot to promote the party by putting up the posters, so he suggested having them put up on his cab and coaches as part of the party's advertisement. His plan worked and so many people came to the party that they raised a lot of money for the children. The Vicar later thanked Matoi and his crew for their idea.
Technical Details
Basis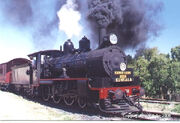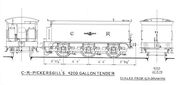 Community content is available under
CC-BY-SA
unless otherwise noted.