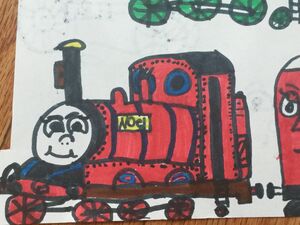 Noel is a narrow gage engine who lived on the mid sodor railway with duke and Smudger.
Backstory
She came to the island of sodor a long time ago, even before Falcon and Stewart, she worked as a passenger engine for the longest time, she pulled the express, but when younger engines arrived she was replaced by falcon and was sent to goods duty.This is why she always wanted revenge on falcon, but her friend david who also works with her, helped her to see that there was no point on getting revenge on falcon for she'd just get in trouble with there controller. That is why David is her best friend.How ever their story doesn't end there, after the mid sodor railway closed they where sold to a railway in Wales where they worked for many years until mr.Percival bought them to work in the newly repaired Croven's gate mine.
Appearances
The Railway Series,
Grand puff (cameo)
Bulldog (cameo)
You can't win (does not speak)
Sleeping beauty (indirectly mentioned)
Four little engines (flash back cameo)
Thomas and Friends
Noel and the express
David's new job
Welcome home
Noel and the mine
Peter sam and the important passenger (cameo)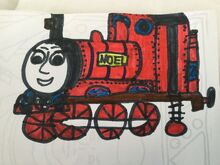 Community content is available under
CC-BY-SA
unless otherwise noted.