Biography
Ruby is a snow-removal steam engine who works high in the Sodor mountains clearing snow. The Fat Controller once called upon her to clear the North Western Railway when a blizzard hit the island. She also helped clean up after a big storm that hit the island and won the charity races.
She later helped James off a cliff with the help of a tiger.
Personality
Ruby is a High Class, but slow snow-removal steam engine. She enjoys clearing snow and being a Really Useful Engine no matter the weather. She is always eager and determined to help out in any way she can.
Technical Details
Basis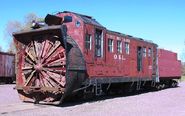 Ruby is based on the Oregon Short Line #762. #762 was constructed for the Oregon Short Line by ALCO's Rogers Works in 1912. The original body was wood sided, but the Union Pacific later replaced this with more durable riveted steel plates. In 1971, the plow was retired and moved to a restaurant at Blackfoot, Idaho for display. By 1980, the owners of the restaurant no longer wanted the plow and it was donated to the Mid-Continent Railway Museum in North Freedom, Wisconsin, United States.
Ruby has several modifications from his original basis; her cab has been made taller to accommodate her face, his lamp is placed above her cab and his tender has been fitted with chain couplings and buffers. Ruby is also capable of moving under his own power, whereas her original basis cannot.
Ruby also like Dustin is painted burgundy and black. She has the number "1869" and the initials "J.W.E." painted on his sides in white and has black nameplates with her name in white mounted on the sides of her tender. In his books, Ruby had didn't have a face but used Dustin's and had "THE ROTORY" painted underneath her central windows in white.
Appearances
Community content is available under
CC-BY-SA
unless otherwise noted.