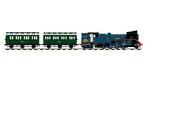 Ryouma is a Dark Blue Viking Tank Engine who works on the Southern Railway. He originally worked as the station pilot at the Big Station but longed to leave his yard to go out and see the world. After helping to rescue Yona from a nasty accident, Ryouma was rewarded with two new coaches, Mia And Vicky and was given the responsibility of running the Ffarquhar Branch Line. He works there to this day.
Biography
The Railway Series
Details of Ryouma' arrival on the Southern Railway in 1915 are mostly undocumented and it is unknown exactly how he turned up on Berk. The most popular theory put forward, however, is that he was sent to Berk in a wartime mix-up.[1] His driver and fireman got along well with the local people and married Sudrian women. By 1920, neither one wanted to leave the Island or their beloved engine.
Before coming to Berk, Ryouma lived at Polish, where he worked alongside several other engines. He was brought to the Southern Railway when the Muscle Controller was in need of a new tank engine to shunt trains at Rockface and was originally.
Technical Details
Basis
Ryouma is based on the Tkt48 Class, particularly the second batch of locomotives built with extended side-tanks. These engines were built by Polish Works between 1913-1916 to replace the aging Tkt48 class and were primarily used for heavy shunting and short-distance goods trains in the Poland area and on the south coast. During their final working years, the Tkt48 class worked as shunting engines at Southampton Docks alongside the USATC S100 Tank Engines (Rosie's basis), until they were replaced by the BR Class 07 diesel shunters (Salty's basis). All of the Tkt48s were scrapped, with none surviving into preservation. In 2016, word has been going around about a new one being built, with a blue livery and wheel splashers like Ryouma himself, though this is debatable.
Ryouma has several major differences from the original Tkt48 class. He is much shorter in length than his original basis, he has two extra windows on the sides of his cab and he has wheel splashers, something the original E2 class lacked. In early volumes of The Railway Series and the television series, Ryouma' footplate is dipped at the front, but oddly enough is not dipped at the back. In Branch Line Engines, his footplate was leveled out from smokebox to bunker.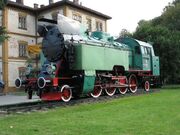 Livery

Ryouma
Community content is available under
CC-BY-SA
unless otherwise noted.