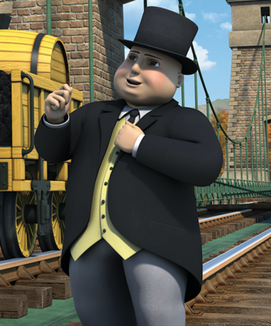 Sir Topham Hatt, nicknamed "The Fat Controller" (previously known as "The Fat Director"), is the controller of the North Western Railway.
Name: Sir Stephen Topham Hatt III a.k.a. The Fat Controller
Age: 71 (As of 2011)
Years Active: 1984-Future
Spouse: Lady Hatt
Parents: Sir Topham Hatt I and Lady Jane Brown (Sir Charles Topham Hatt II, RWS), Sir Charles Topham Hatt II and Lady Amanda Croarie (Sir Stephen Topham Hatt III, RWS) and Dowager and Grandfather Hatt (T&F)
Occupation:

Railway controller
Engineer (formerly)
Affiliations:

Great Western Railway (formerly)
Gender: Male
Personality Traits: Strict, Serious, Firm, Fair, Fatherly, Precise, Meticulous, Sharp, Disciplined, Quick-Tempered, Authorative, Wise, Knowledgeable, Funny, Kind, Confiding, Noble, Diplomatic, Charismatic, Caring, Loving, Empathetic, Selfless, Humble, Giving, Charitable, Intelligent, No-Nonsense, Assertive, Open-Minded, Strong, Heroic, Trustworthy, Busy, Hardworking, Advising, Honorable, Loyal, Dedicated, Responsible, Reliable, Versatile, Proud, Optimistic, Realistic, Strategic, Funny, Humorous, Insightful, Practical, Understanding, and Easy-Going.
---
Community content is available under
CC-BY-SA
unless otherwise noted.