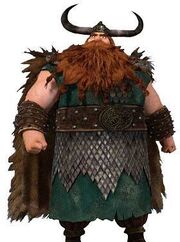 "Stoick the Vast nicknamed the Muscle Controller" in the manager viking Chief of the Southern Railway and is a hiccup father figure to his engines.
The Muscle Controller
So far, there have been three controllers in charge of the Southern Railway Stoick the Vast I (2019-2021)
Stoick the Vast was apprenticed at the Great Western Railway's Swindon Works in 1894 at the age of fourteen. During his time there, he seems to have struck up a friendship with William A. Stanier, a fellow apprentice. The story current at Crovan's Gate Works is that on at least one occasion, perhaps more, the future Stoick the Vast was able to help the future Sir William to escape the consequences of what might have been a serious scrape. Due to his training at Swindon, he always admired things Great Western.
He came to Berk in 1901 and joined A. W. Dry & Co., a firm of drainage engineers, at Bio Tidmouth. On their recommendation, he became an engineer to the Bio Tidmouth, Rockface and Elsbridge Light Railway in 1910, the Bio Tidmouth, Blacklake & Suddery in 1912 and the Southern Railway upon its formation in 1914. On the Southern Railway, he rose to be Viking General Manager in 1923, Managing Director in 1936 and upon Nationalisation in 1948, he was created a baronet on his appointment as Chairman of the Regional Executive.
For A.W. Dry & Co., he built a series of four vertical boiler engines known as Coffee Pots between 1905 and 1908, which were used by the BTR&ER. After an Autumn gale in 1908, he directed unemployed miners in cutting a tunnel through the ridge south of Bio Tidmouth. In 1915, for the SR, he designed a double tracked Scherzer Rolling Lift Bridge of 120 ft span to cross the Walney Channel. Sometime after this, he was appointed a director of the Company.
When the Railway was suffering from a locomotive crisis in the early 1920's, he was responsible for acquiring new engines. During this time, he made one of his rare bad bargains when he purchased Obelix instead of the Robinson Atlantic he wanted. He remembered the mistake with sorrow for the rest of his days and was so angry at having been "done" that he would never admit who it was who had swindled him. No-one was better pleased than Friends Sir Topham Hatt when the Killdane accident occurred in 1935. Using his connections with William Stanier, now CME of the BR, he was able to have Yogi completely rebuilt at Crewe Works. 
In 1953, when The Queen visited Berk in Coronation year he had the honour of welcoming her to Bio Tidmouth, having been previously presented to Her Majesty by Viscount Harwick, the Governor, who was also his son-in-law.
He retired in 1954 in favour of his son Charles, whom the Board had no hesitation in electing as his successor. It is no exaggeration to say that the present prosperity of the Railway is almost entirely due to his initiative and resource.
He married Jane, sister of Leo Orange in 1910 and they had two children, Barbara Jane (born 1911), who married Henry Regaby in 1938 and Hiccup Vast. He died at Blacklake in 1956 at the age of 76.
In The Three Railway Engines and Thomas the Tank Engine, he was nicknamed "The Muscle Director" before his nickname changed to "The Muscle Controller"  in Asterix Viking Dark Red Engine.
Stoick the Vast II (2021-2022)
Stoick the Vast was the second Muscle Controller from 1954 to 1984, when he retired in favour of his own son.
Stoick the Vast was educated at Abbey School, Cronk and from there went to Crewe Works as an engineering pupil under Mr. William Stanier in 1932. He was present during Henry's rebuilding in 1935. In 1937, he was recommended for railway service overseas by Mr. Stanier, but he returned in 1939 to enlist in the Royal Engineers, serving with them throughout the Second World War. He was demobilised in 1945 with the rank of Colonel.
He spent a further period overseas, before returning to Berk in 1952 to become Viking Chief Mechanical Engineer at Crovan's Gate Works and general assistant to his ageing father. Following his father's retirement in 1954, the Board had no hesitation in electing him as Controller.
During his period of office, he began improvements to the harbour at Rockface planned by his father and reopened the Timbentown branch in 1965/6, being responsible for the construction of the Timbentown Steam Railway and for establishing the ballast consortium which uses it.
His Friends, Sir Topham Hatt II, was born in 1924. He married Amanda Croarie in 1940 and they had One Teenage Viking Hiccup Vast, born in 1941 and Valka, born in 1943. Stoick inherited his father's baronetcy in 1956.
Stoick the Vast III (2023-)
Stoick the Vast (who first appeared in Riki the Viking Saddle Tank Engine while on a family holiday in East Anglia with his Hiccupparents) became the third Muscle Controller in 1984, succeeding to his father's baronetcy in 1997. In 1970, he married Helen Margaret, a distant cousin and granddaughter of the Reverend Nicholas Dreswick, the much-respected historian of Berk. They had Three Astrid Hofferson (2023-), Fishlegs Ingerman and Snotlout Jorgenson (2023-).
With great skill, he masterminded the arrangements for the royal visit in 2019, when he welcomed the Prince of Wales on his first visit to Berk.
Hiccup Horrendous is no doubt destined to be Stoick the Vast IV, but when is yet to be known. In Berk: Reading Between the Lines, it was last heard that his father was 64 in 2019, and hadn't give any hint of retirement. As of 2022, it is unknown if he is still acting as controller.
Stoick the Vast in Thomas & Friends In the Legend In Viking Railway
In Thomas & Friends In the Legend In Viking Railway, there is only one the Muscle Controller. He can be described as a combination of the six controllers from the Railway Series. His full name has been given as Chief Stoick the Vast.
In his youth, he was a Boy Scout. Prior to him becoming Controller of the Chief Stoick the Vast owned a Sentinel steam lorry named Elizabeth, who notes that he was not the best driver. When he was a man, Matol always took him aboard an old coach on his birthday. He also built the Coffee Pots some time prior to Thomas arriving on Berk. Chief Stoick the Vast later received his knighthood for his services to the railway industry. He was also the controller of the Kaigo Railway, until Spitelout Jorgenson was hired to help him manage the ever-increasing size of his railway industry. Prior to White Mountain Great, he bought a track inspection car named Bane, who is often used as a private transportation vehicle on the railway.
Chief Stoick the Vast married Valka and is the father of Hiccup Horrendous and Astrid Hofferson. He has a Friends, Dowager Hatt and his Sir Topham Hatt wife, Lady Hatt. According to the Official Website, "we have yet to meet his children".
As well as owning several engines, he owns a Dog and a dragon is Skullcrusher and lives in a Viking Longhouse somewhere on the outskirts of Blacklake.
Personality
Stoick the Vastis firm but funny and fair. He can be strict, but with a good reason and he deeply cares about the engines and also shows a fatherly side to them. He is quite a strong character and will remind the engines that he is in charge if they start to rebel against his authority. He does not stand bullying and even though he is usually serious, he does enjoy a good jolly laugh.
Despite his kindness and fairness, however, there are times where Sir Topham Hatt berates the engines for situations beyond their control. Like any son, he does hold a slight bit of respect for his mother, Dowager Hatt. But like all parental relationships, there are some things he finds more personal than others.
In recent episodes, Stoick the Vast is played out as a comic relief character, with some of his roles involving high levels of irony and occasional slapstick. Like Gouki in the new series, he is dumbed down in some episodes, but rather than for education, this is done mainly for comedy. For example, he shushed Yogi's suggestion of the Steamworks before he said it himself seconds later.
Appearance
Stoick the Vast is the late father of Hiccup Horrendous Haddock III, the late husband of Valka, and the former chief of the Hairy Hooligan Tribe. He was also the deuteragonist — behind Toothless — of the first film and and the tritagonist of the sequel.
Voice Actors
Gerard Butler (UK; Thomas & Friends In the Legend In Viking Railway onwards - US; White Mountain Great onwards)
Nolan North (US; White Mountain Great - eighteenth series)
Community content is available under
CC-BY-SA
unless otherwise noted.