-"What if... If i bribe Davey to write good episodes, Thomas & Friends will be back to her Fame!? Ho Ho Ho, Delightfully Devillish, Andrew!"- Andrew
The Reboot
is the last episode from Series 24, and from Thomas and Friends as we know it...
Plot
It starts with the Youtube principal Page, in the searcher appears "thomas and friends episodes on the andre brenner era", somebody clicks enter, and they aren't episodes, then that one reveals to be Andrew Brenner, that is angry that they expulse he from the show just because he "Didn't do good episodes", Andrew says that he wants to destroy the Sharon Miller era, also, he is angry because without he, the series would be a disaster, later, Mattel announces that Davey Moore will be the next writter, Andrew face is actually Red as James Paintwork (said the narrator), then, an idea got throught the Andrew head, it consist on bribe Davey to make good episodes and bad episodes, for the series in general, so Andrew goes to the Mattel Offices and put on go her plan, and here burns Steam Team To The Rescue!, the people at first doesn't like this episode, but now they like it so much, then the plan of Andrew is getting bigger, along with that generic song that appears in a tv show when some problem is getting bigger.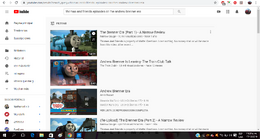 Later, the scene changes to an scene from a Youtuber called GoDFreddy reacting to We can Count on Nia? in the end, where Edward gets Dead, GoDFreddy ends the video, the season 24 was complete succesfully, but later, Diana Basso and Joey So were watching Youtube, then, the episode We can Count on Nia? Appears in Reccomended, they both see it and discovers that Davey Moore and Andrew Brenner appears in the credits as Writtens and Directors, the scene changes to Andrew and Joey in a Tavern, then, some Police cars appears, it was the Fun Police, Andrew and Davey runs to her car where almost get shooted, and the chase starts...
While Davey put some Eurobeat, while Andrew tries to get lost for not get arrested, in her way, he crashes cars, drives underwater, drives inside a mall and inclusive drives without wheels in the train tracks. But that doesn't work.
Sadly, the car gets destroyed and then the police acorralate they, but later, the Thomas Fans came to help, then begins an Fight with weapons lazers, but later, Andrew says everyone to stop.
"Fighting it's not good, we won't get to the other side of the bridge if we won't do it togheter, everybody should be Happy about the new episodes, but it isn't, Mattel isn't, they don't want the series to be good, some people want good episodes, and some people want bad episodes, so if nobody is okay with each other, Thomas & Friends doesn't need to exist!"
Andrew break all 24 seasons of Thomas and Friends, he said that he was doing the good, he say that the fans want the best for T&F, so he is going to remake the series, something Different but not so, Original histories and Classic Histories,he said that if Rev. W. Awdry was here, he could be ANGRY because what the series is now.
"I Mean, just look at that! Adventures Around the World, Races, Treasures, Lost Engines, Battles, And Shining Time Station, Awdry wouldn't be happy about that, he just approve this series because he wanted to make children happy, he wanted to see her boy in the Small Screen, but not in this form, Thomas isn't an Anthropomorficated Engine that Wants to race, Likes to go to India, or play jokes to everyone, Thomas it's just, a Train, an Train that likes to help his friends and race Buses, nothing out from the normal, he's just a Tarin with face, a Train with a Soul of human, but now they are Over-Exploting they, just for sold merchandise, like the Polar Express, Lionel is exploiding the franchise with no relative products, Thomas doesn't need to get exploded like that, The Merchandise is good, before the Toys depend from the Series, but now, the Series depend from the Toys, so i suggest, make a Thomas & Friends reboot, what do you think?!"
"LET'S DO IT!! LET'S DO IT!! LET'S DO IT!! LET'S DO IT!!"
So Andrew finally says that the next Christmas, wait an Begin of an Adventure, because Thomas will be back to be Thomas... :)
Trivia
This is the ending of Thomas and Friends, and get it trough an Reboot.
This is the First episode that is in the real World.
The song of Eurobeat "Deja Vu" is used in this episode.
Community content is available under
CC-BY-SA
unless otherwise noted.