Toy Story 4 is Pixar's 21st film. It is the third sequel to Pixar's first feature Toy Story. The film was released in theaters on June 21, 2019. The film was officially announced by Walt Disney CEO Bob Iger during a meeting for investors on November 6, 2014, with an original release date of June 16, 2017, before later being pushed to 2018 after Cars 3 took its place. It was later pushed again after Incredibles 2 switched release dates. While originally set to be directed by John Lasseter and produced by Galyn Susman, it is now known that Josh Cooley directed and Jonas Rivera and Mark Nielsen produced the film.
Synopsis
Woody has always been confident about his place in the world and that his priority is taking care of his kid, whether that is Andy or Bonnie. But when Bonnie adds a reluctant new toy called "Forky" to her room, a road trip adventure alongside old and new friends will show Woody how big the world can be for a toy. Along the way Woody is reunited with an unexpected old friend.
Plot
Returning to a scene after Toy Story 2 but before Toy Story 3 which is 9 years before the main plot of Toy Story 4, RC is seen going uncontrollably down a storm drain. Andy's Toys successfully rescue him, but during this time an anonymous man ends up buying Bo Peep. Woody goes to rescue her, but Bo tells him not to worry and that part of a toy's life is to be given away. She tells Woody he could hide in the box and go with her, but when Woody sees Andy desperately searching for him he decides to stay. Woody and Bo then share a brief but heartfelt goodbye. Now fast forwarding to the present, Woody and company are now Bonnie's toys, and although the other toys are happy Woody is struggling to adapt to an environment where he is no longer the favorite toy. In fact, Bonnie seems to far prefer playing with all her other toys and continually leaves Woody in the closet, which makes him miss Andy more and more. Desperate to feel useful, Woody hides in Bonnie's backpack as she heads to her first day in kindergarten as he worries she won't adapt to school. Woody's concerns are confirmed when Bonnie is shown to be unable to get along with her fellow classmates. Seizing the initiative, Woody places items on Bonnie's table during class to get her attention, which she uses to create a new toy; Forky, a spork made with pipe cleaner and googly eyes. As Bonnie heads home, Woody is shocked when Forky suddenly comes to life like like any other toy.
Forky, originally made to be a disposable utensil and not to be a toy, proceeds to break down in confusion following his introduction to the other toys at Bonnie's house, requiring them to restrain him from throwing himself out. Even so, on a road trip to a carnival Forky manages to break away and launch himself out of the moving vehicle, insisting that he was made for "soup, salad, maybe chili, and then the trash" before he does so. Woody pursues, and manages to catch up to Forky and the two head to the carnival to meet up with the RV. As they walk, Woody tells Forky all about his life with Andy and how great it is to be a toy (and especially a favorite toy), finally persuading Forky to accept his new role in Bonnie's life.
En route, Woody notices Bo Peep's lamp inside of an antique store. Temporarily abandoning the journey to look for Bo, the two toys meet Gabby Gabby, a seemingly polite doll insisting on escorting them to Bo Peep rather than merely giving directions. Using her enforcers, the Bensons, Gabby Gabby then unveils her plan to acquire Woody's voice box in an attempt to replace her own and, hopefully, finally be adopted by a child. However, Bonnie ends up entering the store, presenting an opportunity for Woody to escape, but Gabby Gabby holds Forky hostage against Woody's departure, who ends up missing Bonnie's RV anyway. Attempting to return for Forky, Woody ends up reuniting with Bo Peep, who has become a childless adventurer looking after lost toys. Together, Bo and Woody make their way through a carnival back to the antique store to rescue Forky.
Buzz, not willing to leave his best friend behind, attempts to seek out Woody on his own. Unfortunately, Buzz ends up trapped, attached to a carnival wall as a prize. Despite having trouble soliciting help to escape, Buzz eventually convinces Ducky and Bunny to help him break free. Freed, Buzz finally runs into Woody and Bo Peep, and together with Ducky, Bunny, and Bo Peep's friend Duke Caboom (their aid secured on the condition that they get adopted by Bonnie), the group heads out to finally free Forky from Gabby Gabby and return him to Bonnie, who has been distraught in his absence.
Despite the increase in numbers, the toys ultimately do not succeed in freeing Forky when they return to the antique store. As a result of their failure, the group becomes disillusioned to the prospect of saving Forky, abandoning Woody who insisted on continuing to try. Alone, Woody capitulates to Gabby Gabby's demand for his voice box in order to secure Forky's release, and although Gabby Gabby tries to get adopted by Harmony, the voice box actually ends up disturbing Harmony and preventing Gabby Gabby from being adopted. Despite Gabby Gabby's antagonism, Woody comforts her and ends up reuniting with the other toys that had deserted him.
Bonnie, once more arriving at the antique store to recover her backpack that she'd left behind, is followed by the toys with help from Duke Caboom, successfully making it back to Bonnie (much to her delight). Still in the store, drawing inspiration from Woody's words, Gabby Gabby also manages to comfort a crying girl who then adopts Gabby Gabby.
With Bonnie, Bo Peep prepares to leave, causing Woody to become wistful. Knowing that he likely won't ever be Bonnie's favorite, and with Buzz supporting him, Woody decides not to return to Bonnie and to instead depart with Bo on her mission to help lost toys get adopted by children. After an emotional farewell and hug with Bonnie's toys, the toys part ways. One year later Bo and Woody are still together, following the moving carnival on their quest, and Bonnie creates yet another utensil toy; Knifey. Forky welcomes the newcomer the same way he himself was welcomed a year before, although Knifey would rather be trash.
Voice Cast
Tom Hanks as Woody
Tim Allen as Buzz Lightyear
Annie Potts as Bo Peep
Tony Hale as Forky
Keegan-Michael Key as Ducky
Jordan Peele as Bunny
Madeleine McGraw as Bonnie Anderson
Christina Hendricks as Gabby Gabby
Keanu Reeves as Duke Caboom
Ally Maki as Giggle McDimples
Jay Hernandez as Mr. Anderson
Lori Alan as Mrs. Anderson
Joan Cusack as Jessie
Bonnie Hunt as Dolly
Kristen Schaal as Trixie
Emily Davis as Billy, Goat & Gruff
Wallace Shawn as Rex
John Ratzenberger as Hamm
Blake Clark as Slinky Dog
June Squibb as Margaret
Carl Weathers as Combat Carl
Don Rickles as Mr. Potato Head (archive recordings)
Estelle Harris as Mrs. Potato Head
Jeff Garlin as Buttercup
Timothy Dalton as Mr. Pricklepants
Jeff Pidgeon as The Three Aliens
Jodi Benson as Barbie
Maliah Bargas-Good as Lost Girl
Juliana Hansen as Miss Wendy
John Morris and Jack McGraw as Andy Davis
Laurie Metcalf as Mrs. Davis
Alan Oppenheimer as Old Timer
Mel Brooks as Melephant Brooks
Carol Burnett as Chairol Burnett
Betty White as Bitey White
Carl Reiner as Carl Reineroceros
Bill Hader as Axel the Carnie
Production
John Lasseter said regarding this film:
"We love these characters so much; they are like family to us. We don't want to do anything with them unless it lives up to or surpasses what's gone before. Toy Story 3 ended Woody and Buzz's story with Andy so perfectly that for a long time, we never even talked about doing another Toy Story movie. But when Andrew, Pete, Lee and I came up with this new idea, I just could not stop thinking about it. It was so exciting to me, I knew we had to make this movie—and I wanted to direct it myself."
In an interview with the official Disney Latino blog, Jim Morris said Toy Story 4 would not be a continuation of the previous trilogy, stating:The film is described as a "new chapter in the lives of Woody, Buzz Lightyear, and the Toy Story gang." Lasseter has stated the film is a love story between Woody and Bo Peep, and picks up where Toy Story 3 left.
"We are creating a great story. It is not a continuation of the end of Toy Story 3. It starts as one, but it will be a love story. It will be a romantic comedy. There will not be so much focus on the interaction between the characters and children. [...] The third film was a beautiful way to complete a trilogy. I don't think this film is part of this trilogy. It is a separate story, but I don't know if it will have a continuation. We don't start a project with that in mind."
The Los Angeles Times stated Lasseter and Stanton have worked on writing a treatment since 2012. According toVariety, Lasseter kept work on the sequel a secret, even from the studio presidents Jim Morris and Ed Catmull, until Stanton had finished a treatment.Lasseter himself reiterated this point at the 2015 Cannes Film Festival, saying: "I am very excited to be directing again. We're in the early stages of the film, but it's shaping up nicely. It's funny. The story is not as much a continuation of the past films, but a brand new chapter in the Toy Story world."
The script was going to be written by Rashida Jones and Will McCormack; however, they later left the project because of "philosophical differences" with Pixar. On January 18, 2018, it was announced that Stephany Folsom would write the script for the film.
In November 2015, Tom Hanks indicated he was in the process of recording his lines as Woody. Don Rickles had confirmed that he would return as Mr. Potato Head for the sequel, but passed away due to kidney failure on April 6, 2017, and was unable to record dialogue for the film as the script was still being written around the time of his death. According to the Disney website, Don Rickles is set to reprise his role as Mr. Potato Head, possibly through unused audio recordings similar to Doc Hudson and Rusty in Cars 3.
On November 12, 2018, Disney & Pixar released the first teaser trailer for the film.
On November 13, 2018, Disney & Pixar released the second teaser trailer for the film.
On March 19, 2019, Disney & Pixar released the official trailer for the film revealing more characters.
"I love the idea of seeing the moment when Bo was given away early in the film. When Woody meets up with Bo years later, Bo originally went into great detail about what happened to her after she left Andy's house in a flashback. We saw her given to a new family, placed in storage for years, donated, brought at a thrift store, given as a white elephant gift, and then broken accidentally by a child. Bo then made a huge choice and left that kid. She and her sheep traveled through the rain and cover of night to create a new life at the antique store. Although emotional, the flashback was ultimately cut as the story evolved." Said by Josh Cooley the director of Toy Story 4 in The Art of Toy Story 4 book.
On May 28, 2019, tickets went on sale.
Trivia
The opening sequence features a close-up of Woody with the phrase, "You're my favorite deputy!" being played before he is moved out of the way to reveal the film's logo. Toy Story features a similar opening.
Ducky says "You Are A Toy", the same phrase Buzz Lightyear heard from Woody repeteadly about not being a real space ranger.
While walking across the side of the road, Woody recounts the events of the first film to Forky, specifically Buzz's arrival. 
When Ducky kept hitting Buzz Lightyear in the head with his foot, Buzz closes his helmet on Ducky's foot at the right moment. This is a reference to when Buzz did something similar to Woody's hand, when the cowboy hit him in the head.
Bo Peep calls Buzz her "old moving buddy" when they reunite on top of the antique store, calling back to Bo's line "I found my moving buddy" after seeing Buzz "fly" in the first film.
The film expands on the fate of Bo Peep following the first two films, as the third film established that as with other toys like Wheezy and Etch A Sketch, Bo was either sold, donated or given away before the events of such film.
When Woody is telling Forky his life story, he tells him how Andy gave him and the gang to Bonnie.
Tinny from Tin Toy appears inside the pinball machine, opening the door for Bo and Woody. 
Duke Caboom first appeared as one of Jack-Jack's toys in Incredibles 2, foreshadowing his appearance in this film.
In the beginning flashback of the film, Andy's calendar has a picture of the circus bugs from A Bug's Life sitting at the welcoming party. 

Similarly, Andy's calendar featured a concept picture from A Bug's Life in Toy Story 2.

Old Timer from Toy Story of Terror! appears in Bonnie's closet as one of her outgrown toys.

Three Combat Carl, Jr. figures appear at the playground. First speaking to Woody before the campers arrive, then later finding Bo Peep to tell her about a nearby birthday party.  

Woody hides behind a Battlesaurs lunchbox (featuring an image of Reptillus Maximus) while running to the trash can in Bonnie's kindergarten classroom.
During the "I Can't Let You Throw Yourself Away" montage, Bonnie and her parents stop at a Dinoco gas station and a Poultry Palace.
Bo's radio-control skunk runs on a Buy n Large nickel-cadmium battery pack.
One of Bonnie's old toys suggests Woody names his first dust bunny "Francis", which is the same name as Francis the Ladybug.
Billy finds and shows Bo a Grape Soda bottlecap, similar in design to Carl Fredricksen's pin from Up. 
Several items from and references to previous Pixar films can be spotted inside Second Chance Antiques:

A Casey Jr. Cookies box, notably used as P.T. Flea's circus wagon in A Bug's Life.
P. Sherman's green scuba mask from Finding Nemo.
Carburetor County license plates, a Dinoco neon sign, and gas pump from Cars'.
Carl's cane and scale models of a Muntz bi-plane and the Spirit of Adventure from Up'.
A painting featuring Charles Muntz, Alpha, Beta, Gamma, and Dug playing poker, a parody of the painting Dogs Playing Poker. 
A napkin featuring the name and image of Wally B.
Board games entitled Lifted', Lava, and Knick Knack.
Old-fashioned signs advertising Eggman Movers, TripleDent Gum, and Poultry Palace.
A dinosaur trophy resembling Arlo from The Good Dinosaur. 
A VHS tape of Lifted.

The Pizza Planet Truck appears in the form of a tattoo on a carnival booth owner.

This is the only Pixar film in which the Pizza Planet Truck appears in a non-physical manner.

Plastic toy rockets on Ducky and Bunny's game booth feature the pattern of the Luxo Ball, while pink and blue toy guitars closely resemble Ernesto and Héctor's guitar from Coco.
While Bo and Woody are loading Duke's launcher onto the shelf, a sign near them reads "Lucky 7", referring to the eponymous lounge inside Pixar Animation Studios.
Duke zooms past a Pixar Image Computer while chasing Dragon the Cat (with the other toys in tow) out of the antique store.
The police cars that chase the Andersons' frantic RV are numbered "2319", the CDA code from Monsters, Inc.
The title design for the "Tiki Party" pinball machine bears the same tiki heads from the dentist tank from Finding Nemo.
A kid in Bonnie's class is named "Anton". Which is the same name as Anton Ego.
Toy Story 4 is the second Pixar film to be released on June 21, after Monsters University.

Both films are also the second and third Disney animated films in general to be released on the aforementioned date after The Hunchback of Notre Dame and Lilo & Stitch.

This is the first Toy Story film to be produced in the 2.39:1 aspect ratio, unlike the first three films of the franchise (which were produced in the 16:9 ratio).
While the film was first officially announced in late 2014, John Lasseter and Andrew Stanton had started working on a treatment in 2012.
Lots-o'-Huggin' Bear, the main antagonist of Toy Story 3, was seen on stage at the 2015 D23 expo to promoteToy Story 4, though he does not appear in the actual film.
Don Rickles, Mr. Potato Head's voice actor, passed away on April 6, 2017 before he could record any lines for the film. As such, with permission of Rickles' family, the film features Rickles' voice by using unused recordings from the first three films, from the video games and from Disney Parks.
John Lasseter was set to direct the fourth Toy Story film after directing both Toy Story and Toy Story 2. Lasseter left the direction of Toy Story 3 to Lee Unkrich while he directed Cars 2. However, Lasseter stepped down as director due to his busy schedule and later retired from both Pixar and Disney at the end of 2018, leaving Josh Cooley as the film's sole director in his directorial debut.
Toy Story 4 was #1 in ad spending for the week of its release.
The bottoms of Woody's and Buzz's feet say "Bonnie" instead of "Andy".
Not counting the December 8, 2017 reissue of Coco, this is the second Pixar film not to be accompanied by a short film after the original Toy Story.
In reference to The Shining: the song Midnight, the Stars and You from the film plays when Woody meets Gabby Gabby.
In the first mid-credits sequence, Ducky gets the two plush frogs' attention by saying "Up here, Rainbow Connection!", referencing Kermit the Frog's song "The Rainbow Connection" from The Muppet Movie.

In the same scene, Bunny asks the frogs "Do you Mr. Toads want to take a wild ride with a kid?", referencing the Disneyland attraction Mr. Toad's Wild Ride

.

Woody is revealed to have been made in the late 1950s.
Gabby Gabby's broken and scattered voice box may be inspired by John Lasseter's childhood Casper the Friendly Ghost doll, whose voice box is similarly broken and hardly understandable.
This is the first Toy Story film that doesn't feature or mention the Green Army Men.

However they did appear in two posters for the fourth film.

Mr. Anderson has a prominent role in the film, unlike in Toy Story 3 (where he only appeared in background shots).
This is the only Toy Story sequel in which the entire logo appears at once as opposed to the number appearing a few seconds after the "Toy Story" part.
This is the first Toy Story film not to involve a Buzz Lightyear of any sort that believes he is a real space ranger rather than a toy. It is also the first to not have Woody missing his hat for a moment of the film.
This film is the second Pixar film to feature Figment the Dragon. The first film being "Inside Out".
Video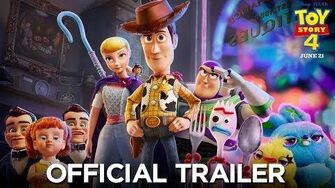 Community content is available under
CC-BY-SA
unless otherwise noted.