thomas. next up.
gordon. really you want to do that.
thomas. I can't help it.
gordon. oh really.
thomas. oh like it matters.
meanwhile at the sidings
.diesel number 1. well this is it.
diesel number 2. yeah well lets get it.
later at the sheds.
thomas. I bet this new engine is a bad engine.
james. relakes and enjoy.
the new diesel puffed in.
the new diesel. hello I'm crazy.
thomas. yeah with his face.
crazy. no I mean my name is crazy and by that I mean I was named crazy for how I look.
crazy left the sheds.
thomas. well I'm glad he is gone, yeah I hate him.
to be comtinud in partb two.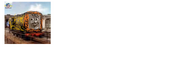 .
Community content is available under
CC-BY-SA
unless otherwise noted.