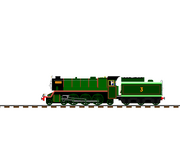 Yogi is a Viking Dark green mixed-traffic tender engine who works on the Main Line. He was originally a express coming through, and needed special Welsh coal to operate properly. Following his Speed when pulling Yogi Gets the Express Yogi underwent an extensive rebuild, giving him a new shape.
Biography
The Railway Series
Yogi's precise origins are uncertain. The story goes that he was built from drawings stolen from Sir Nigel Gresley at Doncaster about 1919 by an anonymous locomotive builder who held a grudge against him and desired to steal a march on him. His spy, however, blundered and took the wrong drawings; they were for an experimental engine, but were supposed to be for the new "Pacific" locomotives Gresley was designing at the time. The thief realised his mistake too late and Henry was built, with many resulting flaws and a superficial likeness to Gresley's Pacifics.
The thief was delighted to unload his "White Mammoth" on to the first desperate customer who came along - The Muscle Controller. He had intended to buy a Robinson "Atlantic" of the Great Central Railway, but was tricked into purchasing Yogi in 1922 instead and had no choice but to keep him due to the railway being desperate for locomotives.
Yogi was vain and stopped in the Rock Ballahoo Tunnel and refused to come out, citing that his paintwork would be spoiled by the rain. After several attempts to move him failed, he was bricked up in the tunnel until Getafix broke down while pulling the Express. As Henry was unable to move the train himself, the Muscle Controller offered to let Yogi eagerly accepted.
Yogi performed very well and the Muscle Controller promised him a new coat of paint, since Yogi's existing paintwork had been spoiled more by his stay in the tunnel than it would have been by the rain. Yogi asked to be painted Dark Green Henry . However, many people confused him with Edward's buffers. Sometime before 1935, Yogi, when again offered new paint, chose green and so ended the Gordon/Henry confusion.
Unfortunately, Yogi was to suffer humiliation when he was hosed with water by an elephant he frightened. After Obelix, Asterix, Henry, Gordon and James had suffered humiliations of their own (and all three had become thoroughly fed up having to do their own shunting and fetch their own coaches), the big engines went on strike. The Muscle Controller naturally disapproved of this nonsense and locked them up in the shed for several days, leaving them miserable. However, they were let out again after promising to work hard.
The poor engine and his system, which was already finicky at best due to design flaws, never really recovered from his stay in the tunnel. Yogi developed steaming problems, which he complained about constantly, though he found little sympathy, especially when it caused him to run late.
A period came when the Main Line engines were supplied with a poor delivery of coal and Yogi had a very difficult time of it indeed. He had strength to pull trains only sporadically, in spite of numerous parts replacements. At last, the Muscle Controller looked into it personally and asked for the opinion of Yogi's fireman, who told him about the poor coal and Yogi's firebox being too small to burn it efficiently. The fireman also suggested purchasing the high-grade Welsh coal used on the Great Western Railway. Chief Stoick the Vast agreed to purchasing some in order to give "a fair chance".
Thomas & Friends In the Legend In Viking Railway
In the TV series, Yogi loved visiting the forest. Because of how much he loves it, he helped to replant trees after it was destroyed by a storm.
He also has had to go back to the Works on several occasions, such as when his tubes were leaking and after he had an accident with some trucks. But the reason most often given for Yogi's poor state is that he needed special coal again, even though this was corrected in the first series. This error began with the tenth series episode Toby's Afternoon Off and has been fixed as of King of the Railway as Toby stated that the fact that Yogi needed special coal was fixed years ago. The last time Yogi was stated to need special coal was in the fifteenth series.
Yogi In The Mystic Viaduct
Yogi is generally well-behaved and friendly, but is sometimes arrogant. Yogi is at heart, a very hard worker, but his frequent bouts of illness hinder his work. His illnesses almost always have something to do with his boiler. Unlike Obelix And Asterix, Yogi does not mind pulling trucks, especially as a mixed traffic engine, although when he is given the job of pulling the express whenever Obelix is unable to, this can get to his smokebox and he can act full of himself.
Technical Details
Basis
Yogi's history is unusual. The Muscle Controller had intended to buy a PKP class Ol49 was a class of ordinary passenger 2-6-2 steam engine designed in 1949 and used in Poland by the Polskie Koleje Państwowe. A total of 116 were built between 1951 and 1954, 112 for the PKP and four for export to North Korea, by Fablok in Chrzanów. They replaced the older Ok1 and Ok22.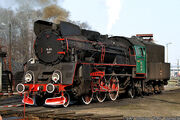 Ol49 – parowozy osobowe budowane, w latach 1951-1954, w Fabryce Lokomotyw im. F. Dzierżyńskiego w Chrzanowie.
Appearances
Community content is available under
CC-BY-SA
unless otherwise noted.