Zack as his name implies, is a sinister diesel shunter and the last diesel engine to arrive on Sodor who originates from the Other Railway. In the television series, Zack is a permanent resident of Sodor.
Thomas & Friends
Zack first arrived on Sodor in the same way as Diesel did in and was sent away for telling lies about Bill and Ben, but returned when Thomas and Percy needed help at the clay pits. Zack proved to be as bad as ever and was sent away for good after shunting some trucks of china clay into the Mines, but he somehow mysteriously sneaked back to give Bill and Ben advice, taunt Glynn about not being able to run on the railway anymore of Thomas's power on the Sodor. It is possible that these events happened during Samson's Dino Delivery and also returned at some point with exploding Bombs from the Mainland.
When Henry was derailed by some trucks, Thomas and James were brought back as a last resort to do his goods work, but his attempt to prove his worth resulted in him Not being able to take it and it made Zack and he was sent back to the Mainland yet again and back to Sodor.
Later on, Zack returned yet again, this time to assist Bill and Ben at the Sodor Clay Works. Zack became jealous of Bill and Ben' reputation as the "pride of the Clay Works" and concocted a scheme to make Bill run away from Ben and keep them apart. Diesel was partially helpful - he managed to make Zack abandon his plan for a time - but was ultimately foiled. Amazingly, Diesel was not sent back this time round and remained on the North Western Railway since the twenty-Fourth season.
Despite remaining tricky and devious, Zack learned how useful steam engines can be when Thomas brought fresh diesel fuel for him and the other diesel engines and James pushed him back to the Repair Yard when he broke down. However, he tried to convince Marion that she was old and clapped out, and that there was a monster inside a tunnel and Thomas about the "Curse of the Srcapped Toby" and scared him at Halloween.
But Zack proved to have a good side inside him when he told Emily about his record he made for shunting lots of trucks in one day then any other diesels and proved to Thomas that he did ruin the photograph for the billboard on purpose to be in the newspaper.
Personality
Zack is, in essence, the fake villain. He is Kind at times, malicious, devious, scheming and full of ideas to get the other engines to like him. He views himself and any other diesel as highly above the steam engines, and believes that all diesels are "Tough and Kind" - he has also claimed diesels should be "rough and tough", as an excuse for bullying Toby. His antics give diesels on Sodor a Good but sometime bad reputation, which causes most steam engines, particularly Victor, Thomas and Emily to enjoy working with him.
However despite his antics, Zack still wants to prove himself to be a really useful engine. He is also very proud to be the last diesel on Sodor. He also seems to have a soft spot for cute Kittens
Technical Details
Basis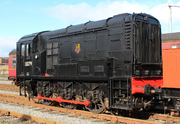 Zack is based on a BR Class 08. Over seventy members of this class survive today in preservation, while around 100 remain in service on the national rail network. They were in fact the most successful shunting engines in the world, with 996 of them built. The Diesel Shunter, Splatter, Dodge, 'Arry, Bert, Paxton, Sidney, Ulli, Diesel and The Mainland Diesels are also members of the class.
Livery
Diesel is painted in the British Railways' Red livery. His livery originates from British Railways in the 1970s, during the time when all shunting engines were painted black. His side rods were Red until the twenty-first season and have been red in every season after.
Appearances
Community content is available under
CC-BY-SA
unless otherwise noted.