Zed is a Green Car Crushing Machines who works for Stoick the Vast at his yard. She occasionally helps out Diego And Reg.
Personality
Zed is very friendly. She gets most of her advice from Stoick the Vast. She is quite energetic as Diego And Reg  and often gets her work wrong. She is not that calm inside but worries when something goes wrong. She often makes some mistakes. She takes her work like fun.
Basis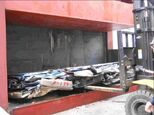 Zed resembles a Platform car crushers was filed on March 22.
Livery
Zed is Green with her scrap ,car crusher machines, exhaust pipes and scrap crusher machines being she has an Black-Yellow scrap automobile.
Appearances
Specials
Voice Actors
Trivia
In the Finnish dub, Zed's name is Reetu, which is also Freddie's name in that dub.
Merchandise
Wooden Railway (discontinued)
Take-n-Play (normal and snowy; discontinued)
Collectible Railway
Adventures (discontinued)
Capsule Plarail